Page 15 - issue19.04.2019
P. 15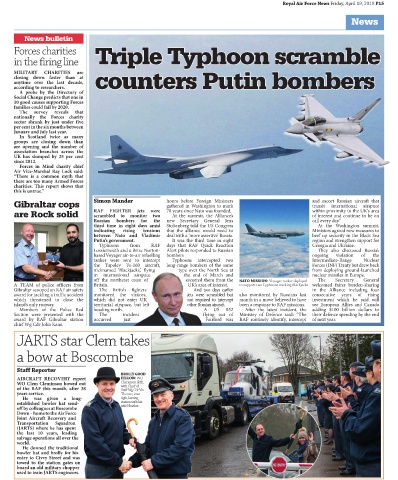 Royal Air Force News Friday, April 19, 2019 P15

                                                                                                                                                News



           News bulletin
       Forces charities                 Triple Typhoon scramble

       in the firing line


       MILITARY    CHARITIES    are
       closing down faster than at      counters Putin bombers
       anytime over the last decade,
       according to researchers.
         A  probe by the  Directory of
       Social Change predicts that one in
       10 good causes supporting Forces
       families could fail by 2020.
         The   survey  reveals  that
       nationally the Forces charity
       sector  shrank by  just  under five
       per cent in the six months between
       January and July last year.
         In  Scotland  twice  as  many
       groups are closing down than
       are opening and the number of
       association branches  across  the
       UK has slumped by 25 per cent
       since 2012.
         Forces  in  Mind  charity  chief
       Air Vice-Marshal Ray Lock said:
       "There is a common myth that
       there are too many Armed Forces
       charities. This report shows that
       this is untrue."
       Gibraltar cops                  Simon Mander                  hours before Foreign Ministers                             and escort Russian aircraft that
                                                                                                                                                    airspace
                                                                     gathered in Washington to mark
                                                                                                                                        international
                                                                                                                                transit
       are Rock solid                  RAF    FIGHTER    jets  were  70 years since Nato was founded.                           within proximity to the UK's area
                                                                                                                                of interest and continue to be on
                                       scrambled to monitor two
                                                                       At the summit, the Alliance's
                                       Russian  bombers   for  the   new Secretary General Jens                                 call every day."
                                       third time in eight days amid   Stoltenberg told the US Congress                           At the Washington summit,
                                       indicating  rising  tensions  that the alliance would need to                            Ministers agreed new measures to
                                       between Nato and Vladimir     deal with a 'more assertive' Russia.                       beef up security in the Black Sea
                                       Putin's government.             It was the third time in eight                           region and strengthen support for
                                         Typhoons     from    RAF    days that RAF Quick Reaction                               Georgia and Ukraine.
                                       Lossiemouth and a Brize Norton-  Alert pilots responded to Russian                         They also discussed Russia's
                                       based Voyager air-to-air refuelling   bombers                                            ongoing  violation  of  the
                                       tanker were sent to intercept   Typhoons intercepted two                                 Intermediate-Range   Nuclear
                                       the Tupolev Tu-160 aircraft,   long-range bombers of the same                            Forces (INF) Treaty but drew back
                                       nicknamed 'Blackjacks,' flying    type over the North Sea at                             from deploying ground-launched
                                       in international airspace            the  end  of  March  and                            nuclear missiles in Europe.
                                       off  the  northeast  coast  of       escorted them from the   NATO MISSION: Voyager tanker deployed   The  Secretary  General
       A TEAM  of police officers from   Britain.                            UK's area of interest.  to support two Typhoons tracking Blackjacks  welcomed fairer burden-sharing
       Gibraltar scooped an RAF air safety   The British fighters               And two days earlier                            in the Alliance including four
       award for tackling a traffic accident   monitored the visitors,       jets were scrambled but   also monitored by Russians last  consecutive  years  of  rising
       which threatened to close the   which did not enter UK                not required to intercept   month in a move believed to have  investment which he said will
       island's only runway.           territorial airspace, but left        other Russian aircraft.  been a response to RAF missions.  see European Allies and Canada
         Members of the Police Red     heading north.                               A   US   B52    After the latest incident, the  adding $100 billion dollars to
       Section were presented with the   The       incident                        flying out of   Ministry of Defence said: "The  their defence spending by the end
       award by RAF Gibraltar station   occurred   just                             Fairford was   RAF routinely identify, intercept  of next year.
       chief Wg Cdr John Kane.

        JARTS star Clem takes


        a bow at Boscombe



        Staff Reporter
                                                  BROLLY GOOD
        AIRCRAFT RECOVERY  expert                 FELLOW: WO
        WO Clem Cleminson bowed out               Cleminson (left),
        of  the  RAF  this  month,  after  38     with Chief of
                                                  Staff Wg Cdr Vin
        years service.                            Thomas, inset
          He was given a long-                    right, leaving
        established bowler hat send-              station with his
        off by colleagues at Boscombe             wife Heather
        Down – home to the Air Force
        Joint Aircraft Recovery and
        Transportation   Squadron
        (JARTS) where he has spent
        the last 10 years, leading
        salvage operations all over the
        world.
          He donned the traditional
        bowler hat and brolly for his
        entry to Civvy Street and was
        towed to the station gates on
        board an old military chopper
        used to train JARTS engineers.